Home
›
General
Hey folks - as a member of the DawgNation community, please remember to abide by simple rules of civil engagement with other members:

- Please no inappropriate usernames (remember that there may be youngsters in the room)

- Personal attacks on other community members are unacceptable, practice the good manners your mama taught you when engaging with fellow Dawg fans

- Use common sense and respect personal differences in the community: sexual and other inappropriate language or imagery, political rants and belittling the opinions of others will get your posts deleted and result in warnings and/ or banning from the forum

- 3/17/19 UPDATE -- We've updated the permissions for our "Football" and "Commit to the G" recruiting message boards. We aim to be the best free board out there and that has not changed. We do now ask that all of you good people register as a member of our forum in order to see the sugar that is falling from our skies, so to speak.
Support My Sportswriting Career: The Bulldog Maven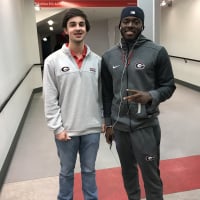 brentwilson
Posts: 2,550
✭✭✭✭✭ Graduate
As a few of you know, I recently started writing for The Bulldog Maven. It's a newer site that has a lot of potential to be great.
We write all types of stuff on all UGA Athletics, much like DawgNation does. I'm not trying to stop anyone from reading DawgNation at all because I will always continue to do so. But, I would love for y'all to read our articles every now and then. You can also create an account on The Bulldog Maven and comment on articles as well as bring up your own topics and add links on there as well.
(please make your user the same as it is on DawgNation so I can know who is who)
Here's the link to The Bulldog Maven:
https://collegesportsmaven.io/georgia/
you can also follow our twitter
@BulldogMaven
My favorite article that I've done is the recap of my interview with Sedrick Van Pran. I'll drop the link to that as well.
https://collegesportsmaven.io/georgia/recruiting/2020-4-star-offensive-lineman-sedrick-van-pran-updates-his-recruitment-0TkVG-mSU0CiVUHT8uCGUg/