Home
›
General
Hey folks - as a member of the DawgNation community, please remember to abide by simple rules of civil engagement with other members:

- Please no inappropriate usernames (remember that there may be youngsters in the room)

- Personal attacks on other community members are unacceptable, practice the good manners your mama taught you when engaging with fellow Dawg fans

- Use common sense and respect personal differences in the community: sexual and other inappropriate language or imagery, political rants and belittling the opinions of others will get your posts deleted and result in warnings and/ or banning from the forum

- 3/17/19 UPDATE -- We've updated the permissions for our "Football" and "Commit to the G" recruiting message boards. We aim to be the best free board out there and that has not changed. We do now ask that all of you good people register as a member of our forum in order to see the sugar that is falling from our skies, so to speak.
Sunshine Pumper Challenge!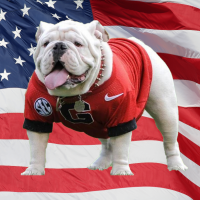 UgaXforPresident
Posts: 271
✭✭✭✭✭ Graduate
Have you been accused of being a sunshine pumper? How about a perpetual rain cloud? Ready to prove your critics wrong?
Introducing the Sunshine Pumper Challenge! Every week for the rest of the season, I will ask you all to predict various things about the upcoming game, based on what we know from all the games up to that point. Some things will stay the same every week, others will change. Before the game, I will create a scoring system that evaluates how realistic everyone's expectations were each week, and report back on who pumped sunshine, who was being a rain cloud, and who has the most realistic expectations. The goal here is to predict what your expectations really are, not your hopes or fears of what might happen.
I will keep a running total throughout the season so people can know how they did, and whether their expectations of the team are becoming more in line with reality. Feel free to participate any or all weeks.
So without further ado, please post your predictions for Auburn this week:
UGA points scored, Auburn points scored, UGA turnovers, Auburn turnovers, UGA sacks, UGA penalties, Number of QBs who throw a pass before halftime.