Home
›
Basketball
Hey folks - as a member of the DawgNation community, please remember to abide by simple rules of civil engagement with other members:

- Please no inappropriate usernames (remember that there may be youngsters in the room)

- Personal attacks on other community members are unacceptable, practice the good manners your mama taught you when engaging with fellow Dawg fans

- Use common sense and respect personal differences in the community: sexual and other inappropriate language or imagery, political rants and belittling the opinions of others will get your posts deleted and result in warnings and/ or banning from the forum

- 3/17/19 UPDATE -- We've updated the permissions for our "Football" and "Commit to the G" recruiting message boards. We aim to be the best free board out there and that has not changed. We do now ask that all of you good people register as a member of our forum in order to see the sugar that is falling from our skies, so to speak.
Georgia Basketball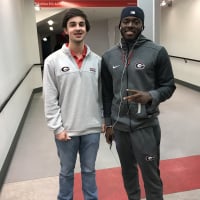 brentwilson
Posts: 2,677
✭✭✭✭✭ Graduate
I've been a fan of Georgia basketball since the Fox era began. This is pitiful to watch and I know the school is focused on football so I assume the school could care less if the basketball team wins or loses. I'm not asking for a national-championship contending basketball team, but it would be nice to make the tournament more than 2 times in a 9 year span. I think it's time for a coaching change, but I'm sure the AD will choose the lowest-costing replacement he can find. What's yalls opinion on the program?