Home
›
Basketball
Hey folks - as a member of the DawgNation community, please remember to abide by simple rules of civil engagement with other members:

- Please no inappropriate usernames (remember that there may be youngsters in the room)

- Personal attacks on other community members are unacceptable, practice the good manners your mama taught you when engaging with fellow Dawg fans

- Use common sense and respect personal differences in the community: sexual and other inappropriate language or imagery, political rants and belittling the opinions of others will get your posts deleted and result in warnings and/ or banning from the forum

- 3/17/19 UPDATE -- We've updated the permissions for our "Football" and "Commit to the G" recruiting message boards. We aim to be the best free board out there and that has not changed. We do now ask that all of you good people register as a member of our forum in order to see the sugar that is falling from our skies, so to speak.
Mock 2019 Class: Hoops Edition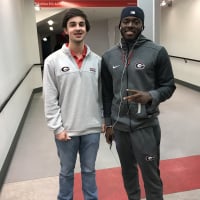 brentwilson
Posts: 2,677
✭✭✭✭✭ Graduate
Figured i'd add some input on who i think we end up with:
PG- 3* Tony Johnson (308th overall)
SG- 5* Anthony Edwards (2nd overall)
SG/SF- 4* Jaykwon Walton (67th overall) (commit)
SF- 4*Toumani Camara (95th overall) (signed)
C- NR Osborn Shema (N/R; UGA only offer)
Dawgs will need to pick up a PG. If they don't sign one they can look to the Grade Transfer market next year.
Also to consider- 2020 5* C Walker Kessler could potentially reclassify. Has 71% of CBs to UGA at the moment.