Home
›
General
Hey folks - as a member of the DawgNation community, please remember to abide by simple rules of civil engagement with other members:

- Please no inappropriate usernames (remember that there may be youngsters in the room)

- Personal attacks on other community members are unacceptable, practice the good manners your mama taught you when engaging with fellow Dawg fans

- Use common sense and respect personal differences in the community: sexual and other inappropriate language or imagery, political rants and belittling the opinions of others will get your posts deleted and result in warnings and/ or banning from the forum

- 3/17/19 UPDATE -- We've updated the permissions for our "Football" and "Commit to the G" recruiting message boards. We aim to be the best free board out there and that has not changed. We do now ask that all of you good people register as a member of our forum in order to see the sugar that is falling from our skies, so to speak.
Chaney Debate - Tape Breakdown - Please! I want to hear a defense for this guy.
**CHANEY DEBATE# **
Per the title, ya'll can probably assume I am not the biggest fan of our Offensive coordinator. I hated his play calling for Jacob Eason and I have hated his play calling this year for Jake Fromm (even the games we won by double digits).My biggest issue with the guy is that his scheme and play calling progressions do not put our young quarterbacks in a position to gain confidence and make plays. Just don't think he is a good fit long term, but fear that he will retain his job due to team performance this year.
I am really excited for Justin Fields, whenever he sees the field, as he adds another dimension to the offense we haven't seen in years, but I think we could bring a better coach and a improvised scheme to facilitate Field's game.
First off, I want to say, for the most part, this loss doesn't infuriate me; I don't think we are that type of program like Bama that is built to handle the pressure of a number one ranking; I mean look at how the top four played today, it can be argued that those ranked 5-10 are benefitting from increased motivation. The final score of the game was rough but things could of gone a lot differently if the team takes advantage of a couple of missed opportunities. We still have a solid opportunities in front of us if the team stays resilient.
BUT, after watching the game and reviewing some of the tape, I'm not confident with the guy's ability to scheme and make adjustments when conditions change. I was particularly bothered with the play calling in the first half (by the time the offense got the ball in the second half, we were already in the hole, a lot of the tape is garbage time).
Listen, tape don't lie and I'm not an expert at this stuff, so if you disagree with me on something than please speak up and respond. This is all editorial. I understand everyone has different opinions and outlooks on the how the game should be played, these are simply my opinions so I will accept critique and criticism but please respect that I am breaking this down because of my love for the game and the team. It's my way of venting frustration.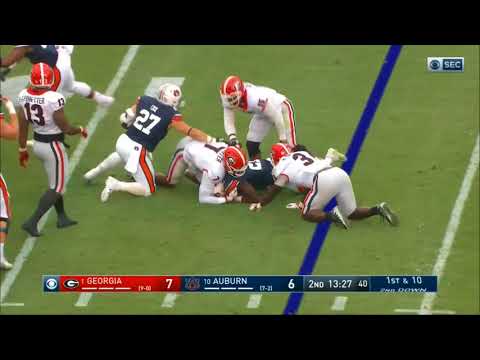 ; 30 min vid of every play in AU-UGA game.
SCHEMES:
In general, I am not a fan of how he is using run and pass schemes:
It appears we combine a power run scheme with a vertical passing scheme, primarily out of the spread offense; listen, I'm more of a ZBS, west-coast out the pistol or under I in College football guy, but that's opinion so I won't get too deep into scheme concepts.
It's more about how we utilize the scheme.
If I had to guess, the idea is have the opposing defense stock up the middle and throw to the deep outside boundaries of the field, but when we can't pass, and there is no variability at all, the offense becomes predictable and inefficient.