Home
›
General
Hey folks - as a member of the DawgNation community, please remember to abide by simple rules of civil engagement with other members:

- Please no inappropriate usernames (remember that there may be youngsters in the room)

- Personal attacks on other community members are unacceptable, practice the good manners your mama taught you when engaging with fellow Dawg fans

- Use common sense and respect personal differences in the community: sexual and other inappropriate language or imagery, political rants and belittling the opinions of others will get your posts deleted and result in warnings and/ or banning from the forum

- 3/17/19 UPDATE -- We've updated the permissions for our "Football" and "Commit to the G" recruiting message boards. We aim to be the best free board out there and that has not changed. We do now ask that all of you good people register as a member of our forum in order to see the sugar that is falling from our skies, so to speak.
DawgNation Points System Explained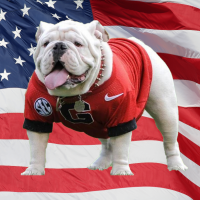 UgaXforPresident
Posts: 250
✭✭✭✭✭ Graduate
I specialize in putting too much time into tasks that don't mean a whole lot. With that said, I have been reading speculation for a long time about the mysterious point system on this site, but nobody seems to know how it works. I decided to dive in and try to decipher it. Hopefully at least someone else gets some level of closure from this.
1 upvote = 1 point
1 spam or abuse = -1 point
"First Comment" Badge = 2 points
"10 Comments" Badge = 5 points
"100 Comments" Badge = 10 points
"500 Comments" Badge = 15 points
"1000 Comments" Badge = 20 points
"5000 Comments" Badge = 20 points
"10000 Comments" Badge = 40 points (note that only @WCDawg has achieved this, so more data points are needed to really be sure here)
"5 Up Vote" Badge = 5 points
"25 Up Vote" Badge = 5 points
"100 Up Vote" Badge = 10 points
"250 Up Vote" Badge = 25 points
"500 Up Vote" Badge = 50 points
"Name Dropper" Badge = 5 points (first time you @ someone in a post)
"Photogenic" Badge = 10 points (first time you upload a photo as your avatar)
"First Anniversary" Badge = 5 points
"Second Anniversary" Badge = 5 Points (likely 5 more for each anniversary, but I guess we'll see)
You are a Freshman immediately after making an account and graduate to new levels as you earn more points: Sophomore (50 points), Junior (100), Senior (500), Graduate (1000).
I do want to point out that there are some points I could not account for, but only for a handful of users. @swilkerson73 , @Bankwalker , @BojanglesInsider , @Kasey , and @JeffSentell all had between 8 and 44 points more than what would be found using the values listed above (there may be others, those were just ones i noted in my trial runs). I'm not sure what causes this, but I would venture a guess that points are instantly applied and upvotes are constantly tallied. Thus, points earned from upvotes on deleted posts count towards points total, but not to the upvote total. Other theories are welcomed.